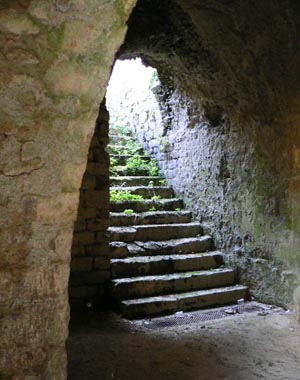 Many reasons. It's a hilltown atop ancient Etruscan cemeteries. With a population of barely 1000, it's walkable, accessible and open-armed. The Saturday we arrived, the old medieval marketplace was filled by a – market – in full swing. Huge porchetta, wild hogs, had been roasted and stuffed with sage and olives. Fragrant meat sliced from the heads made amazing sandwiches, which we consumed — along with the entire town — in the September sun, sitting on old paving stones and listening to music.
Did I mentioned the 1st century BC Roman amphitheater?(stairs leading beneath the stage,shown here) Or the priceless Mannerist masterpiece by Rosso Fiorentino housed in the unassuming Museo? Or the countrystyle cuisine long on farro soups, sensuous fagioli, wild boar chops, rabbit stews and chianina beef? This is no country for old vegetarians, but the endless terroir-driven chianti classicos could properly take a lifetime to survey. We did our part.
At one of many fine local dining rooms — il Sacco Fiorentino —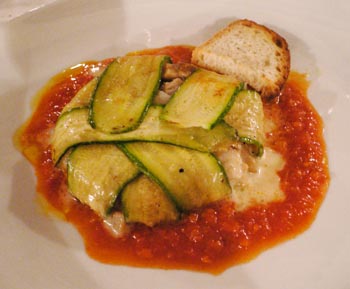 we sampled beautifully-made dishes of the season. A sensitive appetizer of fresh zucchini "turban" filed with supple sautéed porcini and a small pool of fresh tomato sauce, tasted even better than it sounded.