Our late September art walk through Rome included lodgings at the very old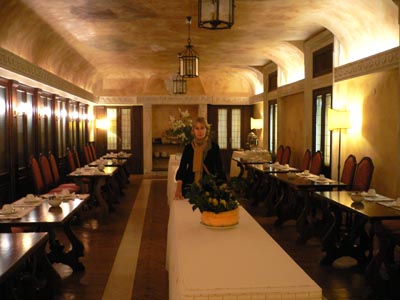 Palazzo Cardinal Cesi, a 15th century papal residence. Housed a few feet – literally – from St. Peter's, we were able to stroll to a lifetime's worth of great artwork, every day. (That's me in the palazzo's breakfast room, complete with barrel vaulting.) Just down the street and across the Tiber, we re-visited the Baroque masterworks by Borromini and Brunelleschi — the gold and marble interiors — and mannerist exteriors —that defined the 16th century during this gilded age.
After a long meditation inside the 2000-year-old Pantheon, it was time for a Campari — which, along with Fernet Branca, is our cocktail of choice this fall. Food, artwork, architecture, and the visually-dazzling tendency of Italians to be just that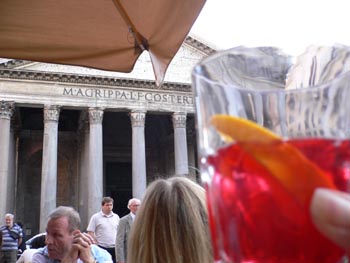 much more fashionable than anyone else – a remarkable trip. Our taxi drivers looked like they'd just stepped out of a Hugo Boss showroom. Waiters invariably resembled Caravaggios. Just too delicious.
Which brings me to the picture perfect bresaola appetizer at La Campana, in Rome's medieval district. The marriage of cured beef and shaved grana is almost matchless.
But don't take my word for it. Look down a few posts.