One of my favorite lunchtime getaways involves a book – say,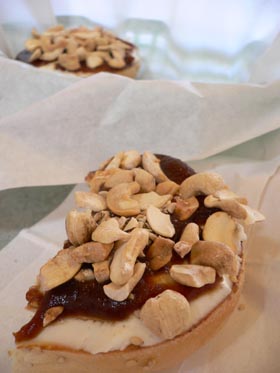 something by Charles Dickens – a private nook at The Bagelry – and The Duke. I know a lot of you out there are nodding in solidarity. The Duke is arguably the best non-traditional bagel creation yet devised ($3.55).
This is my version.
Sesame seed bagel, lightly toasted.
Cream cheese – the more, the better.
Apple butter. You heard me.
A fistful of cashews all over the top.
OMG. Add a gigantic cup of green tea, and Bleak House practically reads itself.