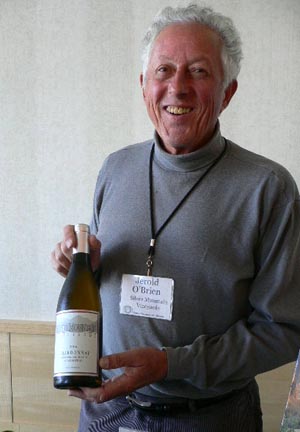 What is it about winemakers? Are there any who aren't intense, attractive, and somehow super-charged with the same stuff that Daniel Craig's got? Well, if so I haven't yet met 'em.
Take silver-haired Jerry O'Brien, from Silver Mountain (hmmm, did he name the winery after his hair? must remember to ask).
Here he is pouring ridiculously fine chardonnay and pinot noir from his brand, and telling tales about the origin of the Tondre's Grapefields name, at last weekend's gala Great Wine Escape at the very plush new Inter-Continental Clement Hotel on Cannery Row. And O'Brien was only one of the attractions at this smartly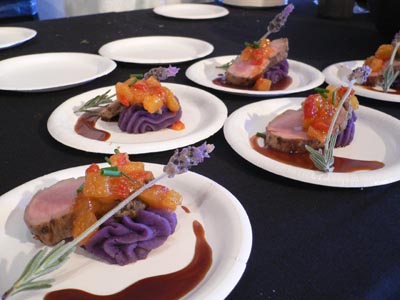 organized excuse to sample the wares of over 40 Monterey County Vintners and Growers.
This beautiful plate of pork, tropical fruits and mashed purple potatoes was whipped up by Kevin Boyle of the Hyatt Regency Maui Resort, and served to grateful wine tasters at the Monterey event. Tasted even better than it looks!