My recent response to the recession was "Let them recalculate my APR!, the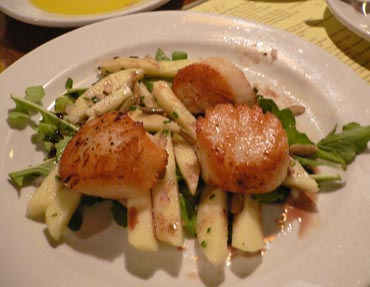 greedy scoundrels!" Having said that, pax Marie Antoinette, I have discovered the joys of dining small, but well, on some of the terrific appetizer dishes created by our top chefs. At Avanti, last Saturday we made dinners of our salads of roast brussel sprouts and cappellini beans ….A few days later, Ava and I shared one of those terrific scallop small plates offered at Soif. This one involved absolutely perfect scallops on top of a bed of ripe apple, tart arugula and toasted pumpkin seeds. Paired with a flight of sauvignon blancs from France, New Zealand, South Africa and California, it was big indulgence for about $30. . .
.Then on Wednesday, I joined wine writer Laura Ness for lunch at Gabriella, where Sean Baker continues to outdo himself in terms of culinary exploration. An immense platter of housemade salumi included a variety of prosciutto, salume, coppa and pancetta accompanied by a head of roasted garlic and some grilled baguette. Incredible. Ditto my trumpet mushroom fritatta served along with a fluff of infant lettuces.
It's entirely possible that my earthy egg dish was inhanced by a glass of Storrs Chardonnay Stu Miller Vineyard 2007, filled with ripe peaches and impressive structure. The knowledgeable Ness provided vivacious wine lore and the food, wine and Gabriella ambience did the rest.