We did Thanksgiving our way this year, and shared a small, informal, but luxurious meal –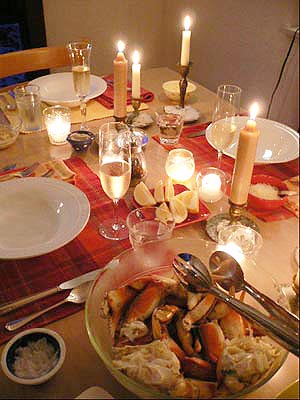 with no turkey in sight.
The menu:
fresh cracked Dungeness crab with three dipping sauces
creamy polenta topped with parmesan reggiano
braised bitter greens – mixed sorrel and chard
Veuve Clicquot champagne &
pumpkin pie
The crab – largest, sweetest I've ever tasted – was from the mighty Staff of Life. So was the fresh sorrel, which is never available in markets. And I made the pumpkin pie with double the spices, and used whole cream instead of condensed milk. Killer!