Lunch last week at downtown Santa Cruz' Cafe Mare knocked me out – in two ways.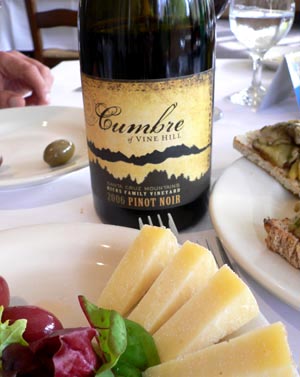 First off the kitchen had just received a huge harvest of fresh porcini mushrooms and was busy turning out a gorgeous variety of daily specials involving the sweet, earthy funghi. My companion and I sampled bruschetta topped (nicely over-the-topped) with melted tallegio and sauteed porcinis. It was incredible!
Another great revelation of the lunch was a bottle of Cumbre Pinot Noir Hicks Family Vineyard 2006, loaded with raspberries and licorice. This gorgeous wine made by Sal Godinez of the Wines of Vine Hill group recently took a Gold Medal at the prestigious 2008 Orange County competition. To which my tastebuds say "Duh!" – this is a beautiful, intensely appealing wine from the Santa Cruz Mountains that got better as the day wore on. I took what we didn't finish at lunchtime, and by dinner it had opened into a serious display of varietal opulence, with mid-tones of bitter orange and spice.
Cumbre pinots are impressive creations — Santa! are you listening?