Over at Capitola Book Cafe it's a whole new world of cafe culture consciousness. Of course you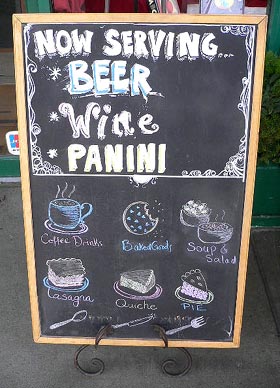 knew about the lovely pastries and serious espresso drinks, perfect to linger with over the London Financial Times.
But now the lunch and light dinner menu has expanded. And there's artisanel beer and a nice listing of wines by the glass. Charming staffers aim to please, and everything is tasty!
Here's the deal: Capitola Book Cafe, still located at 1475 41st Ave. in Capitola (831)462-4415, is open during the holidays with these special offers:
8-10am – 2 for 1 espresso drinks to go
10am-1pm – soup, salad & half sand for $6
6-8pm – free small cheese and fruit plate with purchase of two wine or beer drinks.
And the whole place is open Mon-Sat 8am-10pm (yes, ten at night!), until 8pm on Sunday. I love it!