Now here's chardonnay intriguing enough to appeal even to diehard red wine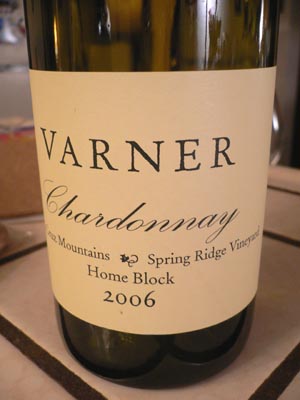 lovers like me.
It's the mighty Varner Santa Cruz Mountains, Spring Ridge Vineyard – Home Block – Chardonnay 2006. Yes it is a long name for a wine, but since winemakers Bob and Jim Varner also create several other very tasty chardonnays, the designation requires lots of specifics. Highly acclaimed by all the usual suspects — Robert Parker is a huge fan — this wine will take you for a better quality spin than you're probably used to.
This very lightly oaked 14.3% creation is made from Portola Valley grapes. Actually, it's only on the second day that the oak peeks through the firm mineral center.
Fraught with depth and tightly coiled, the Home Block chard is a Kundalini of a wine, opening into cascades of kumquat, winter apricot and white pepper. The center is pure mineral – as if the flavor of rain persisted in five or six dimensions. The initial opening contains gardenia, the finish a rumor of salt.
Varner's sumptuous chardonnay shows that sometimes you really do get what you pay for — this super-structured wine runs almost $40, which makes it outside my own daily sippin' comfort zone.
But for those special evenings, you could do a whole lot worse. And you probably have.
I got mine at Vinocruz.