It was almost as if it had never closed. The crowd, the smooth flow of service from exhibition kitchen to full bar to packed dining room — Oswald was back and on Day Two was producing flawless meals to a packed house of overjoyed fans.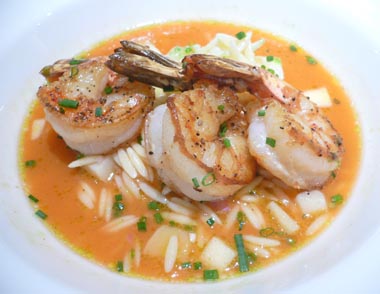 A modest opening menu, long on the brasserie-style, unfussy, flavor-intensive classics regulars had come to adore from Oswald's heyday, did chef Damani Thomas and his crew of veterans proud. Most of the staff were the crème de la crème of area service professionals, including many from the original team. Manager Keet Beck made sure no glass was empty, and no table unattended and frankly it was a very impressive reimergence after nearly two years on the sidelines.
While some of us worried about the new location in the corner of a parking garage at the very tip of Soquel and Front, the opening week put that to rest. So far. Visible throughout the wraparound dining room, and even from the street thanks to non-stop picture windows, the kitchen rocked last Friday night. Smooth, very smooth.
Seated at a banquette in the sparely decorated room — the same signature floral arrangements, but no paintings, yet — we began with champagne and appetizers and continued on to dish after beautifully-crafted dish. The look of the new Oswald is spare, urban chic, where patrons and food take center stage.
A prawn and orzo salad (above) stole the limelight even from the signature frisée salad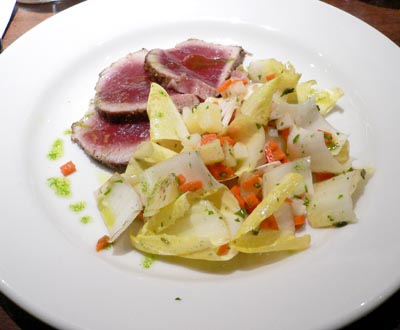 with pomegranate and butternut squash. Glistening in a pool of brilliant tangerine carrot broth, the orzo was studded with tiny cubes of apple and potato. Each forkful produced a different flavor, yet because the cubes appeared identical, each taste came as a surprise. A trio of perfect sautéed prawns crowned this fine dish.
Another starter of seared ahi with daikon and endive in sesame vinaigrette was also brilliant. I loved my entrée of classic house-cured roast pork with braised prunes, al dente haricots vert and a square of meltingly tender potato gratin. But our entire table agreed that a stylish creation of mushroom "bread pudding" soufflé, studded with coarsely chopped Meyer lemon peel and bitter greens stole the show. It was one of those miraculous dishes that makes flavor sense while completely outstripping expectations. (Brown soufflés aren't photogenic enough, however, for digital images.)