My contribution to this year's Boxing Day ex-pat soirée was a tray of mini-cupcakes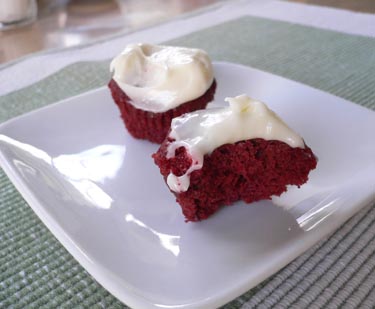 that were outrageous (if I do say so myself).
Lifted shamelessly from one of those McCormick ads in Sunset – and then tweaked for more flavor intensity – this recipe made dozens of two-bite mini-cupcakes, plus a regular layer cake to boot. They tasted as tender and rococco as the made-from-scratch cakes of your dreams. God they were good, really beautiful and worth the morning's effort. Use organic cream cheese and sour cream, the best vanilla you can afford, and try not to think about how much red food coloring this involves.
Here's the recipe. Treat yourself!
Red Velvet Cupcakes
2 1/2 cups flour
1/2 cup cocoa powder
1 tsp baking soda
1/2 tsp. salt
1 cup butter, softened
2 cups sugar
4 extra large eggs
1 cup sour cream
1/2 cup milk
1 bottle (1 oz) red food coloring
2 tsp. genuine vanilla extract
* mix flour, cocoa, baking soda and salt
*beat butter and sugar with electric mixer for 5 minutes, or until light and fluffy
this is important!
* beat in eggs, one at a time (take your time)
* mix in sour cream, milk, food coloring and vanilla
*gradually beat in flour mixture on low speed just until blended
*spoon batter into paper-lined muffin cups, filling each cup 2/3 full
* Bake in preheated 355 degree oven, 20-25 minutes (only 20 for minis)
*cool in pans five minutes – remove and cool completely on wire racks
*spread with frosting – makes 30 cupcakes, or one million mini-cupcakes
Vanilla Cream Cheese Frosting:
beat one package (8 oz) softened cream cheese, 4 T. softened butter, 2 T. sour cream and 2 tsp. vanilla extract in large bowl until light and fluffy.
Gradually beat in 1 box (16 oz) powdered sugar until smooth.
Don't even think about how many calories you're dealing with here – just enjoy the indulgence.