Learn to Wok the Wok, India Joze-style at an upcoming cooking series, called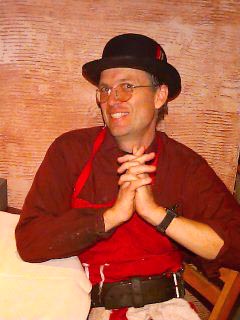 Introduction to Wok World, a Short Course in Intense Food
Happening on two more Sunday afternoons —  February 1,8, from 1-5PM @ Louden Nelson Center, the multi-culinary class starts with an introduction to the inimitable style virtuosity of Joseph Schultz, whose India Joze restaurant remains one of the most vibrant food experiences on record.
After working through procedures and equipment – lecture/demo followed by hands-on practice – the classes continue to explore the cuisines of India, Indonesia and the MidEast. Recipes and materials will be provided, as will a full dinner after each class.
You don't have to be the re-incarnation of Julia Child to get a lot out of this rare opportunity to learn from an exciting cuisinartist.
Single classes – $60. Deal of the century.
Contact Louden Nelson Center @ 831/420-6177 to sign up – do it quick, space in these classes is limited and will sell out!