Fragrant with violets, redwood and berries, the all-biodynamic 2006 Dolcetto from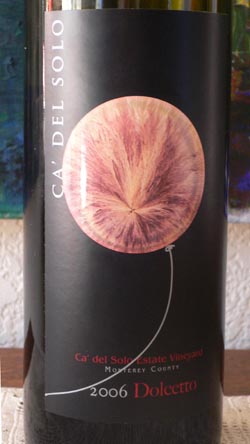 Ca'del Solo Vineyard in Monterey County is a beautiful wine. It takes nicely to food, especially omega-laden seafoods, pasta dishes and lamb. But it's sumptuous all by itself.
On day two, we detected loganberry, geranium and a citrus/mineral center. The dolcetto contains enough tannic insistence to firm up the fruit-forward nature of the grape.
Another lovely landmark in the Ca' del Solo domain — yes, from the folks of Bonny Doon Vineyards. Around $20 and 13.4% alcohol.