No fewer than six top awards at the 2009 San Francisco Chronicle Wine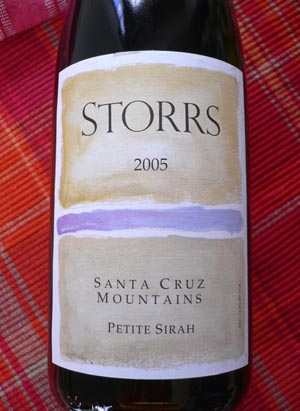 Competition went to wines made by Pamela and Steve Storrs. Gold medals went to the Santa Cruz winery's 2005 Zinfandel Santa Clara County Lion Oaks, its 2006 Pinot Noir Santa Cruz Mountains, and two 2007 Chardonnays, including the renowned Stu Miller vineyard beauty.
A Double Gold went to Storr's Pinot Noir Santa Cruz Mountains Wildcat Ridge, but the one I'm having with dinner of Middle Eastern lentil stew tonight is the winery's 2005 Petite Sirah Santa Cruz Mountains, awarded a Best of Class by the prestigious SF Chronicle judges.
Priced at around $20, the Storrs Petite Sirah is an intricate powerhouse of cloves and currants, cradled in a big tannic grip — big enough (though at 13.8% alcohol, it certainly doesn't taste overwhelming) to age nicely for a few years yet. But at my house, this gorgeous award-winner aged for exactly 30 hours, and then was removed from my cellar (i.e. my garage, where it is always a wine-friendly 53 degrees), opened and is now, at Day Two, ready to meet a dinner filled with cumin and coriander-laced lentils, garlic, smoked ham hocks and chicken. Is it 7pm yet?
Congratulations to the Storrs, who frankly never made a wine I didn't like.