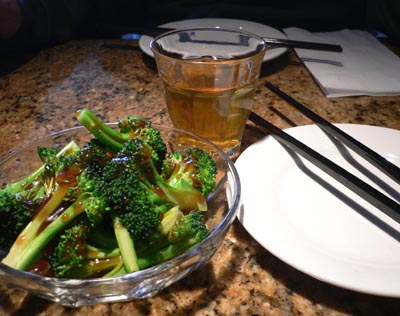 Terrific news for Westside lunchers — O'mei is open for lunch, Tues-Sun 11:30-2pm. But wait, there's more! The "O'mei Express Menu" is priced for the real world, starting at $5.95 and topping out at $7.95. And how is it? Inventive, tasty, quick and cheap.
We tried it on Day 2 and came away full and happy. The meal began with a small plate of al dente broccoli in a bracing soy-sesame-garlic dressing ($2), while sipping hot green tea served in a bistro tumbler and a mega-glass of tart-sweet hibiscus cooler. Then came lunch.
Jack feasted on a bowl of slippery fat rice noodles (plus napa cabbage and broccoli) topped with green pepper minced pork, and an addictive Yunnan spicy green "salsa." ($5.95) My rice plate was loaded with freshly-wok'd napa cabbage, yellow squash, eggplant, peppers and scallions – utterly fabulous in a rich, "twice-cooked" red chili and tomato-laced sauce ($7.95). My topping – you get your choice of four – was tofu, which arrived expertly wok'd to combine a golden, chewy exterior and a silken interior. I played around with the condiments – that black rice vinegar is so amazing it would make anything taste great – and also loved the fermented, salty/spicy green chili "chutney."
You might remember that soon after O'mei opened (close to 30 years ago) it added an authentic street-style noodle shop up at Kresge College. Everything fresh, quick, cheap and fuel-injected with flavor. (That was a metaphor for extremely tasty.) Well that's the concept behind the new O'mei Express Menu. Bowls of noodles or rice with your choice of toppings. Sauces that range from Dan Dan Sesame to Red Oil, and topped with tofu, chicken, beef, or pork. Delicious fresh choices. Low beverage costs, and the napkins of paper, not linen. O'mei has heard the vox populi, and it has responded with affordable additions to its sensational dinner menu.
For the record, that pesky and apparently confusing "chef's service charge," has now been dropped. Even though I applaud O'mei owner Roger Grigsby's efforts to make sure the kitchen staff enjoyed some of the benefits of tipping, usually only shared among "front of the house" staff, the whole thing was not embraced by diners.
So it's gone.
And another thing – the Express menu will be available at dinner time too, but only in the front bar room — which is now full of tables and chairs. And the new 5-6pm Happy Hour offers all by-glass beverages – yup including wine – $1 cheaper than later hours.
O'mei – 831.425-8458 – at the north end of Mission Street, across from the New Leaf complex.