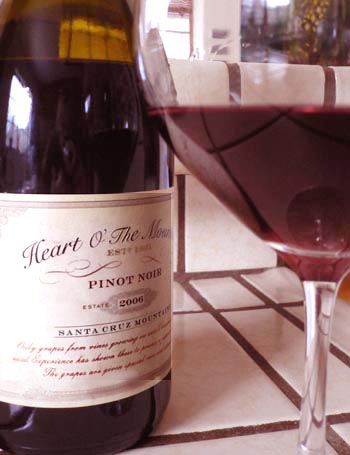 Once upon a time a great American filmmaker named Alfred Hitchcock owned a 19th century estate on acres high above Scotts Valley. Today that same rugged land is home to Heart O'The Mountain winery, where Bob Brassfield, and his son Brandon, craft some mighty examples of Santa Cruz Mountains terroir.
The very first vintage of Heart pinot noir was 2005, and the 2006 is tasting incredible. A half hour after opening, this big wine offered black cherry, redwood bark, granite and a backbone of cloves, sitting smoothly (if tightly) in a web of tannins. By the second day, the Heart O'The Mountain 2006 Estate Pinot Noir had opened into a sumptuous middle of loganberry, perfumed by old roses.
Trivia factoid: Bob Brassfield was one of the original investors in the former Felton Empire Winery — where Steve Storrs made wines — and which now houses Hallcrest Vineyards.
Heart O'The Mountain pinot noir is available at the winery, and through the website. The 2006 wines are even available to non-allocation members. But it'll cost you. $48.