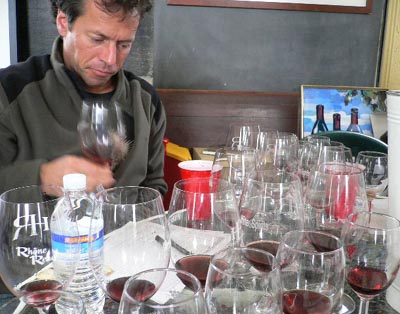 Come meet winemaker Bradley Brown, of Big Basin Vineyards, and sample some of the assertive, engaging, terroir-driven Pinot Noirs he is creating up in the mountains above Boulder Creek.
Here he is working his way through 50 SC Mtn pinot noirs. Brown joined a dozen of his oeno-colleagues last week at an all-pinot noir tasting and vetting at the historic one-room schoolhouse-turned-winery, Burrell School Vineyards.
At Soif's new Local Winemaker Tasting Series, Brown will pour his newly-released Big Basin vintages on Saturday March 28, 5:30-7pm. The event happens upstairs where there will be appetizers of crostini, salami and cheese as well. $20/person, with a $10 refund when you purchase, oh and you will, $60 or more.
Reservations are strongly recommended, call (831)423-2020 or e-mail luke@soifwine.com to sign up. Soif is still located at 105 Walnut Avenue in downtown Santa Cruz.