Update: Kinch Won!
Sizzling Saucepans! Chef David Kinch of Manresa battles chef Bobby Flay on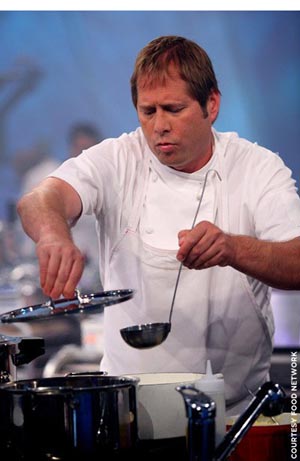 Iron Chef America. Tune in on Sunday, March 15 to see if Kinch's two Michelin stars can take the heat!
Chef/surfer Kinch of Manresa, Los Gatos, will challenge celebrity chef Flay on the popular Food Network cooking competition TV show. You know how it works. Based on a secret theme ingredient, each show features a challenger chef competing against a resident Iron Chef for an action-packed hour of intense, competitive cooking that will hopefully impress a panel of discerning food critic judges. Kinch will be joined in Kitchen Stadium by his talented chef de cuisine John Paul Carmona, and his former chef de cuisine James Syhabout. David Kinch cooks adventurous new contemporary cuisine at his Michelin-starred restaurant Manresa, while Bobby Flay is best known for his Southwestern style of cooking and his flair with a barbeque grill. Which chef has the chops to rule? Tune in to the premiere of the Flay vs. Kinch episode on Sunday, March 15. The episode repeats at various times during the week. Check listings for local show times.