What prompted winemaker Jeff Emery, award-winning winemaker for Santa Cruz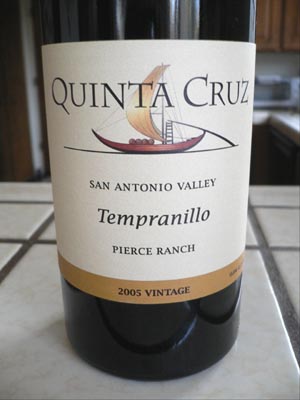 Mountain Vineyard, to start up yet another line of varietals called Quinta Cruz?
"Two trips to Portugal," Emery responds without missing a beat. "I fell in love with the wines, and by chance I saw a listing for these Iberian grapes," grapes with melodious names like Touriga, Tinta Cão, and Tempranillo. A recent planting of these Portuguese varietals in Monterey's San Antonio Valley now powers these intriguing, aromatic and immediately accessible new wines.
The distinctive label for the new Quinta Cruz line — which includes a 2005 Tempranillo, a 2006 blend of two Touriga varieties, and a voluptuous Douro-style blend called Concertina — shows a sepia-tinted drawing of a graceful rabelo sailing ship. Rabelo boats were the traditional means of transporting barrels of Port along the Douro River down to the caves at Porto for aging.
Unbeatable with meaty, tomatoey, garlicky dishes — in other words, with Iberian/Mediterranean cuisine — Quinta Cruz varietals are priced from $16.50 to $24, and if you'd like to get intimate with these bright, fruity wines, a good place to start is the Santa Cruz Mountain Vineyard tasting room – open noon to 5 Fri-Sun – at 334A Ingalls Street on the vibrant Westside of Santa Cruz. 831/426-6209.