Lofty ceilings, rivers of sunlight, polished earth-toned floors — New Leaf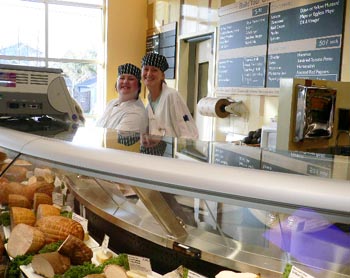 unveiled its newest store on the Westside this morning to the obvious delight of a full house of discerning consumers. Glittering displays of fruit, seafood, and pastries joined an entire alcove of wines, islands of nutriceuticals, cafe seating, a refrigerated flower chamber — and the sleek shelves were still being stocked on opening morning.
I was so happy to see my favorite deli gals — here's sandwich princess Lauren Ward (r.) and colleague — that I ordered a mammoth tuna sandwich to go as I made my inaugural tour of the amazing and quite beautiful new store. If it feels a bit like one of the Whole Foods emporia, that's because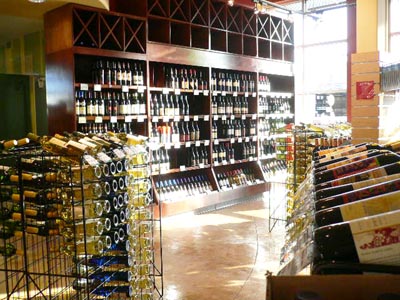 interior architect Steven Crocker, of C/D/M Construction, spent ten years designing for Whole Foods.
More to see, more to buy, and more to just plain be happy about — the Westside can be proud, and kudos to Scott Roseman and Rex Stewart. New Leaf actually lives up to the "bigger and better" hypola. The parking lot is not only huge, but it conveniently adjoins Bonny Doon Vineyard winery and its new gala tasting room. Go check out the very chic, industrial moderne structure at the corner of Ingalls & Fair.