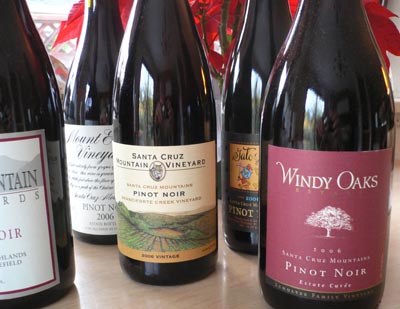 Is it just me or are the wines of the Santa Cruz Mountains getting better? And better.
A few months ago, for example, the San Francisco Chronicle Wine Competition, awarded 30 gold medals – including four "Best of Class" awards – to SCM wines. Thirteen of these golds went to local Pinot Noirs. Yes, it is a big deal. A record 4,736 wines were entered by wineries from all over the United States.
Kudos to the increasingly skilled vineyard practices, educated wine-making chops and brilliant judgment calls on the part of Sarah's Vineyard, Beauregard, Cinnabar, Loma Prieta, Muccigrosso, Roudon-Smith, Santa Cruz Mountain, Soquel, Storrs and Vine Hill. Such distinctive pinot noirs showcase the unique date stamp and flavor signature of our coastal sweet spot.
Now you have a few more reasons to get on down to your favorite wine shop, e.g. Shoppers, Pleasure Point, Deer Park, New Leaf, Vinocruz, you know where to go. And see what all the gold is about.