Buy this wine! Having said that, let me briefly explain why $9.99 was never better spent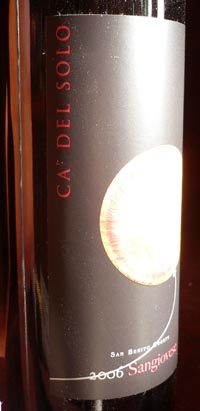 than on the freshly-released Ca' Del Solo Sangiovese 2006, from Bonny Doon Vineyard. Such liquid epiphany reminds us why our Italian brethren often know best, to wit the mighty grape that fueled ten thousand Chianti Classicos, that partnered untold numbers of bisteca fiorentina, and which now has received definitive New World treatment from that shaman of oeno-morphic resonance, Randall Grahm.
It's beyond me how this brilliantly expressive, graceful, tannically-endowed bottle of wild herbs, dark fruit and dried cherries can cost under $10. But it does. And if you can't find it at your favorite market, or wine shop then your eyes are probably closed.
(Here's a hint: New Leaf.)
Sangiovese, biodynamically raised just down the road in Grahm's San Benito County vineyard, big enough at 14.2 alc to stand up to any red sauce on the planet, yet bouyant enough to warrant a second glass. Better, as are all wines, on Day 2. Molto bene.