Bradley Brown, winemaker up at Big Basin Vineyards, covered himself in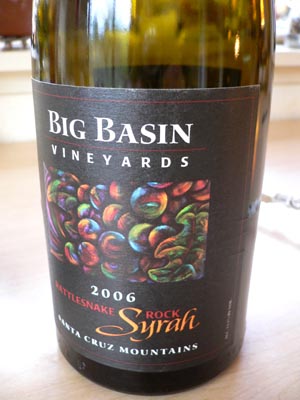 media glory not too long ago with his wild-at-heart, terroir-driven Syrah from Rattlesnake Ridge. And now I know why.
This supple 2006 New World Rhônesque beauty unfolds for miles. From a spice and plum opening, it slides into a meaty center filled with tart and savory mysteries. Bay leaves, cardamom, huckleberries, cassis. The mineral foundation works almost invisibly to support this wine's rich, smoky center. An Easter meal involving rack of lamb provided the perfect occasion to take this robust, almost feral creature out for a spin.
Soft where you don't expect it, dynamic through and through. At 14.1% a perfect fit with all known foods! At Shoppers, etc. For $50something.
Big Basin Vineyards — close to the park grounds where my great-grandfather William Dool was warden, back in the day. Way back.