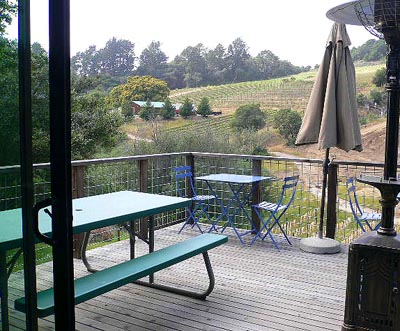 I just wanted to use that title (say it slowly). Actually the newly-released Martin Alfaro Lester Family Vineyard 2007 Pinot Noir is a pinot to be reckoned with. And those of you wandering the atmospheric south county vineyards at the May 9 Corralitos Wine Trail will be treated to a pour at the very spiffy tasting room at Alfaro Family Vineyards. (New tasting deck at right.)
The 2007 is already showing the stuff that winemakers live for. Enough fruit at the start to capture anyone's attention, but enough minerality and structure to arouse pinot envy in colleagues of winemakers Joe Martin and Richard Alfaro. I'm finding hints of northwest rainforest, sassafras and dried plum in the center. Potentially great, already wonderful.
Available for sampling and purchase at the Corralitos vineyard crawl next weekend. Be there.