You bet! And that's just what we had last Friday at the biodynamic cafe attached to the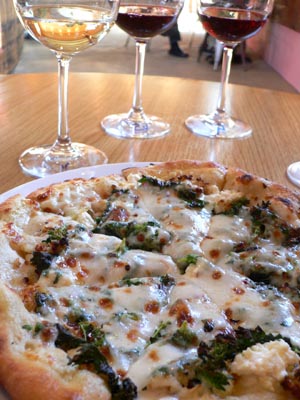 Bonny Doon Vineyard tasting room. Fresh from the oven came the pizza du jour, a feisty creation of roasted cauliflower, wild nettles, mozzarella, ricotta and sea salt. Thin crust, done ala Romana, which is my highest compliment. Seriously terrific pizza, it was miraculous paired with Le Cigare Blanc, a white Rhone-style beauty that is currently on the tasting room flight.
Changes are afoot chez Doon, and you can expect a knock-your-socks-off unveiling of all-new menu, all-new kitchen, all-new chef at Le Cigare Volant Cafe right around May 15. Stay tuned!
And check out the recent NYTimes piece on the reinvention of Randall Grahm.