That would be 2007,(at least in the Corralitos region of the Santa Cruz Mountains AVA)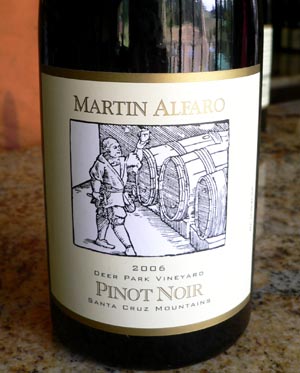 and proof was offered of this last week at the Alfaro tasting room. Richard poured tastes of two (of his ten!) pinot noirs, for me and viticultural consultant Prudy Foxx, made from the Lester Family Vineyard pinot noir estate grapes. Foxx is the viticulturist for the grapes that went into both the 2006 (shown here) and 2007 vintages.
The difference was stunning, though both wines still have miles to go before their full resolution. 2006, from a notoriously wet year, was rounded and earthy. Spherical. Loaded with fruit. The 2007 was angular and intricate, even in its extreme youth. Refreshing and edgy, it offered a more interesting ride, showing yin and yang – muscle and sinew. Bay leaves and aged copper.