In the world of Randall Grahm, change is the only constant. So it comes as no surprise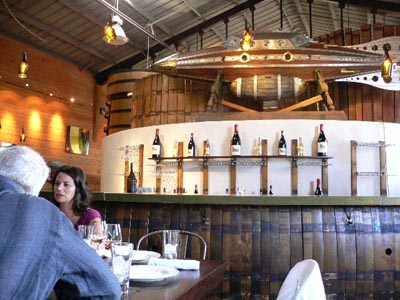 that the winemaker's Cellar Door Cafe now offers 3-course, prix fixe family-style dinners – Wed-Sun for $28, excluding tax and tip. This turns out to be a hedonistic bargain when you add your choice of wine – from the huge house of Bonny Doon Vineyard, Ca' del Solo and other assorted Doon esoterica.
Grahm was ga-ga over the recent installation of a sculptural spaceship — quoting the house "Cigare" logo — created in layers of distressed metals by Michael Leeds.
More Captain Nemo than Starship Enterprise, the handsome artwork looms high over the far tasting room bar (see above). Another reason to spend some time sipping, dining and considering the meaning of it all.
Bonny Doon Vineyard Tasting Room & Cellar Door Cafe – all at the very busy corner of Ingalls & Swift. (328 Ingalls St., Santa Cruz – 831/425-4518)
Open Wed-Sun noon – 9pm; Mon & Tues noon – 5:30pm