Just to prove to you that UCSC arts scholars are messing with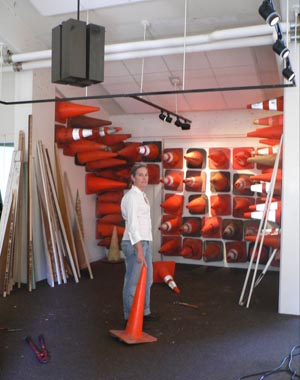 traditional art categories – check out this installation of day-glo orange cones. That's Sesnon Gallery Director Shelby Graham doing the finishing touches.
At the Irwin Scholars 2009 show — reception May 27, 5-7pm. On exhibit through June 13.
Featuring the award-winning artwork of:
Dana Ashton, Jory Bidart, Ben Blair, Ivan Yi-Heng Huang, Anna Huemmer (the cone queen), Jordan Jurich, Conner MacPhee, Maya Manvi, Danni Tsuboi, Jordan Tynes, Bryce Walker, Vince Waring and Mathew Zefeldt.