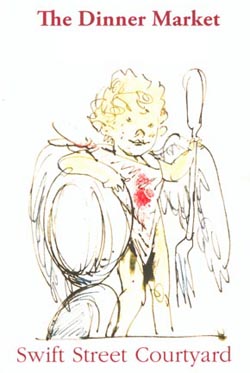 This Saturday – 6-9pm – June 27 – bring your own plates, utensils & glassware and take a seat at the long, long communal table for a summer al fresco feast. Dining on farm-fresh dishes in the middle of Kelly's Swift & Ingalls parking lot. The idea is effortless. Mark Sanchez, Kelly's co-owner explains, "think of it as a farmers market – you simply go around to each vendor, select what you like and pay as you go."
Well this becomes all the more interesting since the vendors include Everett Family Farm providing fresh salads and curried deviled eggs. Corallitos sausages and old-fashioned hot dogs from Gary's Snappy Dog. Crab and artichoke lasagna from Nuevo Southwest Cafe. wild steelhead salmon from H&H Fish, and rosemary chicken and grilled artichokes from Feast for King Catering. There's lots more, plus beer from Santa Cruz Mountain Brewing, and lots of different wine possibilities from the wineries — Bonny Doon, Sones, Vino Tabi, Santa Cruz Mountain — next door to Kelly's. You're welcome to come simply for appetizers, or just for dessert. But I'm betting that once you see the food, you'll be there for an entire dinner.
Klezmer music starts at 7pm – come join your neighbors in some playful seasonal outdoor dining.