Once again the Museum of Art & History in downtown Santa Cruz hosts an alfresco event devoted entirely to al fresco artwork. The juried selection of 25 of the area's top plein air painters — including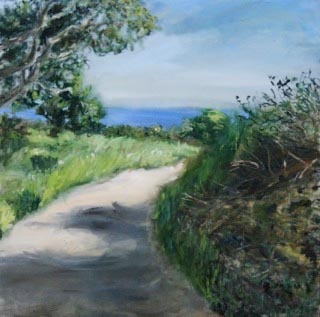 several from beyond the Monterey Bay region— will be on hand this coming weekend to show, sell and demonstrate their expertise with the colors and forms, light and atmosphere of paintings made outside the studio. Yes it is the positively all-new Plein Air Affair.
The moody landscapes created by Andrew Purchin (Pogonip Path shown here) are included in the substantial show, which will fill the courtyard between Vinocruz and Lulu Carpenter's from 11am to 5pm Saturday and Sunday, July 11 and 12. In addition to vibrant artworks by Charles Prentiss, Jennie McDade, Brian Rounds, Frank Galuszka and many others, plan on plenty of live music and refreshments throughout the weekend. And as a terrific bonus, you'll also find Vine Hill winemaker Sal Godinez pouring his award-winning pinot noirs at the oh-so-conveniently-located Vinocruz, from 3-5pm, on Sat, July 11. All the more reason to add this downtown hot spot to your weekend calendar.
Full details on this year's Plein Air weekend are available at the MAH website. Be there!