Katya and I decided to take a preliminary probe of the newly-opened Aquarius, overlooking the main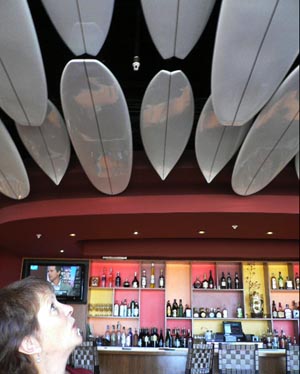 Santa Cruz Beach & Boardwalk in the newly buffed Dream Inn.
Felt good. Surfboards lining the ceiling of the lounge — witty (or silly, depending upon your POV). The excellent wine list offers many local vintage experiences, and the dinner menu also looked promising. Aquarius, sleek and urban with unmatched views of Steamers, is open for breakfast, lunch and dinner — continuously! — from 7am until "closing," i.e. late.
Armed with something in the key of 2006 pinot noir from Monterey made by Samantha Starr, I split a lovely $8 appetizer mezze plate of tzatziki (yeow!), freshly-made tapenade and garlicky hummus, served with warm pita wedges. Such a civilized and finger-friendly dish — perfect with cocktails – for about the price of a decent drink. And while parking (across the street) can be a challenge, Aquarius might be the perfect place to wander into after a walk on the beach.
Stay tuned for more updates.