Restless Lulu Carpenters entrepreneur Manthri Srinath emailed to tell me that his empire now stretches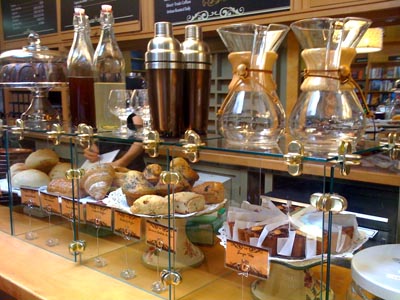 from Scotts Valley, through downtown Santa Cruz and over to….Capitola!
Caffeine enabler Srinath has installed all the sensitive and jolting coffee drinks and pastries we've come to demand of Lulu's at the long, cozy coffee bar of Capitola Book Cafe. This is very good news to discerning coffee fanatics who love great books. Okay, and summer beach books too.
"We're open 6am-10pm Mon-Fri, 7am-10pm Saturday, and 7am-8pm Sunday," explains Srinath. "The bookstore still opens at 9am, but us coffee people like to start early." I'll drink to that.
Yet another reason to stop by Capitola Book Cafe – in the 41st Avenue & Capitola Road vortex, next to the 41st Avenue Cinema.