Calm down, I'm talking about a full-bodied frozen yogurt creation — the Gizmo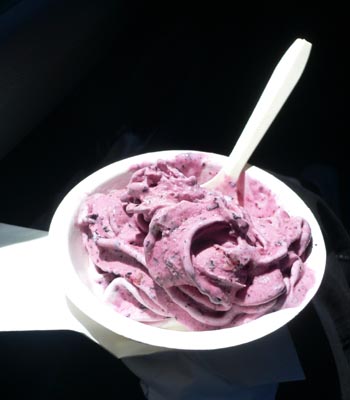 – that combines dense barely sweet frozen yogurt plus your choice of fruit — and turns it into enlightened soft serve creamy dessert. I am (but you probably guessed this already) referring to the possibilities available at the new Yogizmo Yogurt Co. store – located in the Avanti region of Mission Street.
The latest Yogizmo shop just opened here on the Westside, and I stumbled into it on a hot afternoon and found immediately cool comfort in the form of a blueberry Gizmo for $3.35. Dense, tangy, well, just check it out for yourself.
You can also sample abundant Marianne's ice cream flavors, and three soft serve fro-yogurts "on tap" at all times. But it's really fun to choose your own ingrediants and have them swirled through the "gizmo" into a custom treat.
Here's mine, halfway eaten, but still gorgeous.
Yogizmo – 1717 Mission St., SC – open daily 10am-11pm.