No longer just a gorgeous place in Spain, Mundaka is also the name of a hot new tapas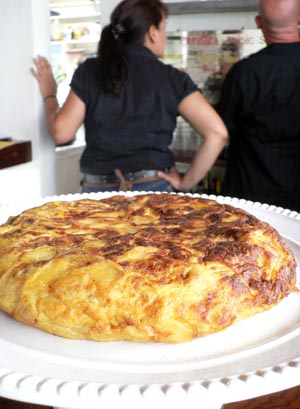 restaurant in the center of Carmel. Gabe Georis and his partners have worked interior design miracles with burnished, distressed and time-worn recycled materials, all of which give a distinctive patina to the two spacious dining rooms of this chic new spot.
Last week, armed with graceful tumblers of Spanish varietals — a white Txakoli and a mighty Rioja from M. de Legarda crianza, both loaded with minerals, fruit and a perfume of sea salt — we worked our way through several rounds of $2 pintxos. These tiny tastes, maybe three bites each, included a brandade on sliced potato, stacks of salmon, pink beets and caper berries, an outrageously garlicky baguette topped with fresh tomatoes and (I know, I just said it) garlic, plus duxelles topped with air-dried beef. Major flavor intensity in every bite.
The central room, with its upright piano, steep stairway to a mysterious somewhere, and U-shaped bar created of corrogated metals, is terrific at sundown when a golden glow touches every surface. A slice of the freshly-made potato, egg and onion tortilla (see image) was heaven. But so was a sensational creation of warm zucchini, toasted Marcona almonds and shaves of grana parmesan. Tiny lamb burgers arrived with pickled cauliflower and fries. The tapas dishes here are authentic – Georis is in love with the foods of Spain — and addictive.
The clientele at Mundaka includes the young and the local, as well as adventurous, sophisticated visitors. I'll go back just to eat my way through some more of the exciting menu.
Mundaka – San Carlos & 7th, Carmel – 831/624-7400