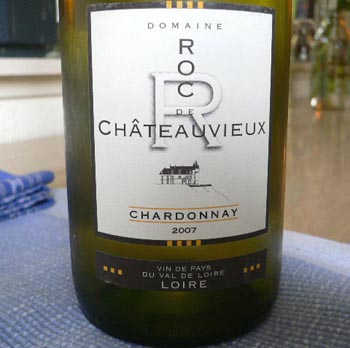 You bet I absolutely believe that $7.99 is a true deal for a better-than-decent bottle of refreshing, low-oak French Chardonnay.
So I loaded up at New Leaf last week on my new favorite easy-sippin' late summer white – a 2007 Loire Chardonnay from Domaine Roc de Châteauvieux. Light – 12.5% – but still nuanced, this minerally beauty offers nose of white flowers (maybe some jasmine, perhaps alyssum) followed by salt and a lemony finish. Completely likeable, it works equally well with halibut and aged sheep cheese.
HOWEVER – I went out today and checked the wine racks at New Leaf and…the price is now $9.99 for this lovely white wine.
Yes, it IS still a very good deal. But I think there must be some sort of pre-emptive cliché for this situation….something like "carpe diem," or "she who hesitates pays two dollars more."
Worth a try, even at $9.99.