Kawa Sushi – two words that spell instant oral gratification. Spacious interior,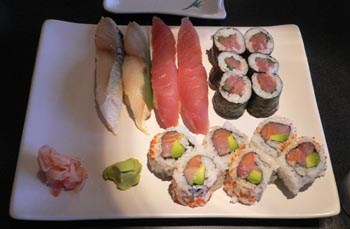 pristine, high-quality sushi and sashimi, friendly service, and a user-friendly sake happy hour for those who like to dine early and often.
Here's our dinner last Tuesday – including our new favorite roll, the Santa Cruz roll. Mmmmm. Protein in the most gorgeous delivery packages human culture has yet devised.
Don't complain about the awkward location – you can't miss it. Corner of Bay & Mission. Kawa Sushi. Much more sophisticated than those places where you need headphones just to wade through the sonic konichiwas…..