Like many inquiring wine-lovers, I found myself in the gorgeous back country of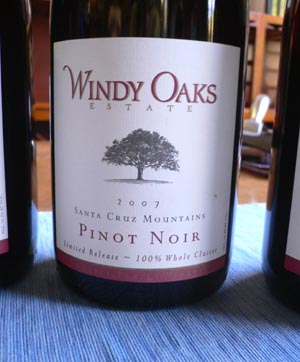 Corralitos last Saturday, tasting wine at a quartet of impossibly scenic wineries. Yes it was hot! At Pleasant Valley Vineyards, the grapes were within hours (HOURS) of being harvested, and at Alfaro Family Vineyards the grapes were coming in even during the afternoon festivities.
Seriously, you need to make sure you join next year's Corralitos Wine Trail harvest taste-trek. Lots of music, good vibes, delightful finger food, and terrific new releases being poured. A delightful Syrah at Pleasant Valley, several notable Pinots at Alfaro, and a remarkable new release from Windy Oaks (see image), given depth and complexity from 100% whole cluster fermentation. I loved this wine, made by the meticulous Jim Schultze (looking good in burnt orange shorts!) up at his hilltop winery.
Part II coming next week!