At the very strategic corner of First Avenue & Union, next door to the Seattle Art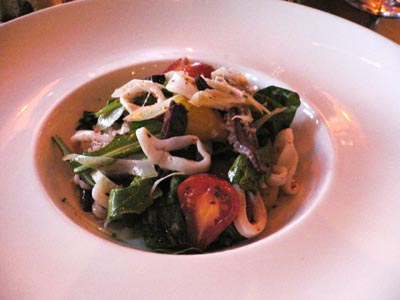 Museum and hanging over Pike Place market, Union is a very smart island of low-key sophistication. Chef Ethan Stowell, whose sibling restaurants include the popular Tavolata and How to Cook a Wolf (cf. MFK Fisher), does simple, elegant, non-fussy things with regional ingredients.
I loved a squid salad (pictured here) luscious in a light tomato broth, tossed with olives, fennel, tomatoes and arugular. Especially nice with a generous, if pricey pour of Lange 2007 Pinot Noir Willamette Valley.
My entree of wild King salmon on lentils with pancetta, mezzaluna carrots and spinach, was so thick and large a portion, that I actually could not finish it. Maybe I had consumed too much of the sensational house focaccia, served with a quantity of exceptional olive oil abundant enough to lube a Maserati.
The wine, alas stayed tight, even though it suggested a bit of northwest ambience with a nose of bay leaves.
The soft, grey panorama of Puget Sound unfurled across the windows. Great spot to sample the flavors of Seattle.
http://www.unionseattle.com/