Two of my favorite artists' visits in October happened 600 miles apart.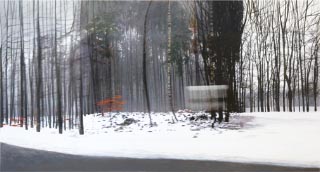 The new, enigmatic Blurred Landscapes large-scale photo montages by Sara Friedlander — created, cunningly manipulated, and ultimately altered by painted overlays, lingered long in my imagination.
These pieces have the impact of a childhood dream. To see them, is to have an immediate sense of recognition. And yet, Friedlander weaves images from geographically far-flung regions — images from Japan might be edited into a forest in the Czech Republic — in order to create these eerily soothing dreamscapes. After being printed, re-organized, and printed again on heavy archival paper, the images are then enhanced with oil and acrylic paint detailing. So the Landscapes are at once multiple-generational assemblages, and yet one-of-a-kind originals.
The best news is that Friedlander's Landscapes are now lining the walls of old Lulu's on Pacific Ave. so if you missed seeing these impressive pieces during Open Studios, you can feast on them over a morning macchiato.