Everybody has a fall-back position, restaurant-wise. A reliably accessible dining spot that offers enough range to please both the pickiest vegetarian and the unapologetic carnivore. Prices that don't induce psycho-motor epilepsy, flavors that amaze, and hopefully some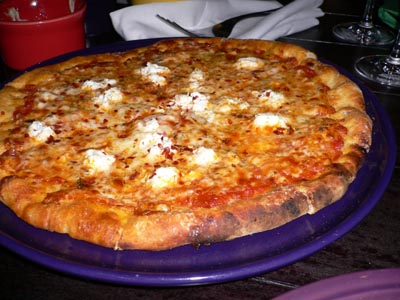 glamorous ambience in the bargain.
Lately our dining spot to meet friends, or to take out-of-town guests is The Cellar Door, the vivacious cafe at the back of Bonny Doon Vineyard's Tasting Room.
It seems to work well, this idea that you dine at communal tables (set for six+), you may order a substantial $35 prix fixe dinner, or graze your way through a long, long alacarte menu, (pictured is a deceptively simple pizza margarita with Bellwether ricotta and a perfect crust) just like we have done the past two Sundays.
Armed with some albariño, or a white Cigare for starters, we have feasted on the addictive smoked fingerling potatoes, which arrive standing tall in a fat cup of aioli, followed by the amazing Castelvetrano olives, spicy peppers and roasted garlic. Who knew that brussel sprouts could be turned into savory elegance just by the addition of chèvre and a splash of cider?
The real problem with Charlie Parker's (r)evolving blackboard listing is that you absolutely cannot stop ordering. A huge rectangle of Fiestaware arrived with a line-up of Monterey squid on a bed of warm farro, with sunchokes and lacy slices of persimmon. Encroyable. But the house pâté – pork and duck fat yummy – with dandelion greens, radishes and toasts – was even better.
Pizza topped with the bright, sharp flavors of ricotta, rosemary and dry farm tomatoes filled us up.
Well, almost. Since we did have to try the beautiful wintry Arctic char atop a comforting cushion of spätzle, cabbage and onions.
Desserts at Cellar Door rival the wines — the sangiovese is vibrant, the Cigare volant authoritative.
A dessert of chocolate mouse arrived inflected with sea salt, and drizzled with warm caramel sauce.
Yes. To die for.