Richly flavored and colorful, the large (16oz) jars of Happy Girl Kitchen heirloom tomatoes called out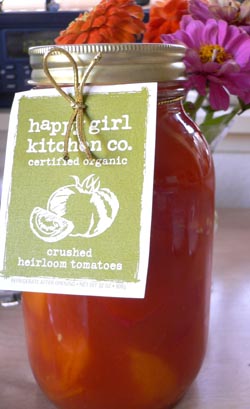 to me last Saturday as I strolled the Westside Farmers Market. I plunked down $10 and took home a jar.
Later that evening, half the jar of crimson and orange pomadori surrounded a large filet of local halibut (from H&H) topped with chopped kalamatas, capers and oregano, for a terrific "mixed grill" dinner. And the other half jar remained to go into a luxurious marinara later that week.
Well. Those organic tomatoes, full of the end-of-summer, roasted into complete sweetness and intensity.
Happy Girl Kitchen also makes vibrant jams, plus canned and pickled veggies. Visit them on-line, or at any number of local farmers markets, and at Staff of Life and Food Bin.