And between those five-inch heels on Penelope Cruz' feet and a kitchen table strewn with ripe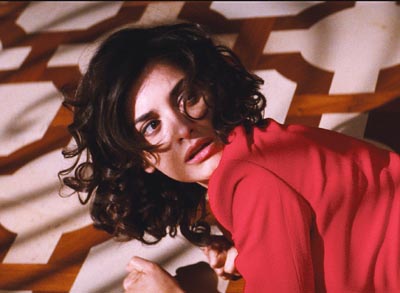 tomatoes, Spanish cine-maestro Pedro Almodovar literally invents the color red.
The film is Broken Embraces, a virtuoso homage to great film masters past, as well as a ripping great mystery yarn that spans the genres from Almodovar's early gender-morphing camp to indelible Liebestod.
In Almodovar's hands, Cruz is visually addictive, to say the least. Think Hitchcock with exuberant sexuality. Now change Kim Novak's grey suit into lipstick red, her platinum blonde hair to black and her placid English to sensuous Spanish. You have the picture. Almodovar's latest film is a tightly-wound masterpiece, serving up a brilliant collage of film styles — even a film or two within a film — all to unfold the back-story of a mysterious tycoon obsessed with a sweet sultry call girl. Somehow they become involved with a film maker, and the obsessions multiply.
Super-saturated images are used judiciously — this isn't the over-the-top fem-jep auteur of Tie Me Up, etc. Almodovar has matured into a skilled storyteller and as convoluted as this tale is of blind director (Lluis Homar) who recounts his passionate love affair with his producer's mistress (Cruz) 15 years earlier, Broken Embraces is never confusing.
Riddled with crisp, edgy graphic camerawork — the sophisticated lifestyles of contemporary Madrid are captured with insider expertise — this film is mesmerizing in its ability to interbraid film noir motifs (cf. Cruz lying at the bottom of a curved staircase stained with blood), with bits of French new wave (the lovers embracing on a beach of black volcanic sand), a few touches of Soderberg (the entire love story told in flashback, is also being videotaped continuously by the producer's geeky son).
The performances are superb. Cruz is a force of nature racing her character from fear, to sorrow, to sexual passion and into slapstick silliness, and back. But she has some heavyweight company on Almodovar's screen. Bearing haunting resemblance to a young Laurence Olivier (only much more buffed) is co-star Homar as the filmmaker in the center of the film. His producer and agent is brilliantly portrayed by Blanca Portillo, whom you'll also recall from The Sea Inside. Her shocking backstory is equally riveting. And as the rich businessman at the center of the obsessive mystery, Jose Luis Gomez is a stunning villain.
As much as Broken Embraces quotes from noir and soap opera, heightening emotional impact until you can't stand it anymore, it is also an ingenious story told in overlapping time periods that all make complete sense in the end.
You will find yourself astonished as you watch, and haunted for days afterwards.
At the Nick Christmas Day.