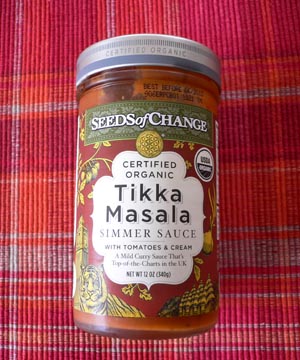 Tikka Masala from Seeds of Change – is serious flavor in a jar. All the labor-intensive work of grinding, roasting, mincing, and simmering has been done for you – all you need to do is get a jar of this wonderfully aromatic simmer sauce ($6 @ New Leaf) and let its heady perfume turn something ordinary into a spice trip.
Confession: I am not a mistress of Indian cuisine. I don't have a wildly successful curry recipe up my sleeve. But I adore (adore) the extreme spices of Mother India. So I'm always grateful for high-wattage shortcuts.
We had roast chicken the other night. Chicken can always use a little extra kick, no? This tikka masala worked transformative magic. I like my Indian flavors on the hot side, so we also applied a few hefty dollops of "hot" mango chutney to the chicken, along with tons of the tikka masala.
Fabulous. (I know all of you spice purists are probably rolling your eyes. But some of us gotta work for a living and don't have tons of leisure time to watch the Food Channel and whip up a respectable masala from scratch.)