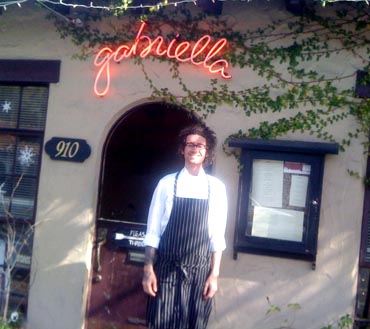 Brad Briske (pictured here) still turns out astonishing dishes at Gabriella, which remains open (thanks to voodoo sacrifices and an astute tax attorney). We were once again rendered speechless by lunch last week showcasing designer pizza, hand-made cured meats and natural beef burgers. Oh and dessert of pound cake with orange zabaglione that was TDF.
Valentine's Day at the Cellar Door. No prix fixe that evening, just romantic, candle-lit small plates by Charlie Parker, such as…. * Kumamoto oysters, with Meyer lemon granita & dill creme fraiche * Roasted lobster, artichokes, sunchokes & Buddha's Hand * Bacon-wrapped galantine of rabbit, green garlic, young roots & prunes* vanilla-chocolate tart, burnt caramel ice cream & sea salt.
For even more romance, the Bonny Doon Vineyard folks are including live music by the Magnolia Jazz Band. Yes, by all means, make reservations.
Joseph Schultz is offering an intense,whirl-wind Greco-Turkish cooking course on Feb 23 at New Leaf on Ingalls St. 5:30-8:30pm, details at New Leaf website. Learn the tricks of the masters at this cooking class with the mastermind of the late lamented India Joze restaurant.