Nothing compares with being in the midst of a live performance.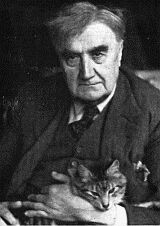 The UCSC Concert Choir, conducted by Nathaniel Berman, will perform two musical masterworks by Ralph Vaughan Williams, Friday and Saturday March 12 & 13, @ 8pm.
Friday, March 12, the choir performs Dona Nobis Pacem and Five Mystical Songs at the First Congregational Church, 900 High Street, in Santa Cruz, and again the following evening at St. Matthew's Episcopal Church in San Mateo.
British modernist composer Ralph Vaughan Williams (shown here in his composing prime) and American poet Walt Whitman shared a sensitivity to the dark allure of warfare. Both saw the full range of battlefield suffering. Neither forgot what they saw.
Vaughan Williams' masterpiece Dona Nobis Pacem sets Whitman's battlefield visions to music for full chorus, punctuated by haunting solo work for soprano and baritone.
Full of tears and thunder — often breaking into shimmering eight-part chords — the music is ravishing.
Tickets available at the door, or at 831/459-2159 & at santacruztickets.com — $10 general/$8/senior/$6 students & UCSC staff.