That would be the Chalone Vineyard Chardonnay 2008 from Monterey County decorating the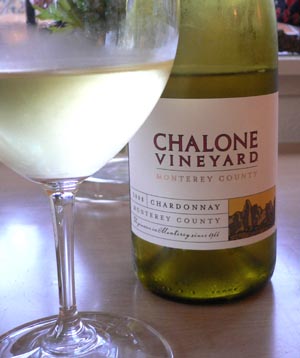 bargain rack at Shoppers Corner.
I can't believe this wine doesn't cost twice the price!
We liked this smartly-constructed, lightly-oaked wine for its balanced 13.5% alcohol and its lovely blend of peaches, melons and hazelnuts. Rounded with a crisp, if brief, finish, it is a wonderful wine. But more than that, it is a very, very inexpensive, well-made California chardonnay for under $10.
It will run you a mere $9.99.
Especially nice with steelhead and braised bitter greens.