I love the new label that maverick winemaker Jeff Emery is trying out for his crisp 2009 Quinta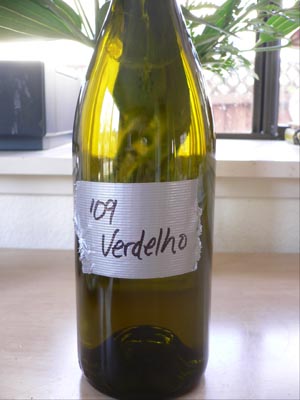 Cruz Verdelho. Actually, the duct tape here isn't so much a cloaking device as it is expedient.
The labels haven't yet been attached to this latest installment of Emery's highly drinkable white varietal. Fast-moving on the palate, graced with a slight spritz, this Portuguese grape is quite distinctive, offering a quick floral nose before settling into citrus, wintergreen and a tropical fruit center.
The finish is woody, haunted by a hit of bubblegum. Terrific stuff.
Stop by the Santa Cruz Mountain Vineyard tasting room and give it a whirl. $22 a bottle is a bargain for a wine that is immediate, polymorphous and exotic.