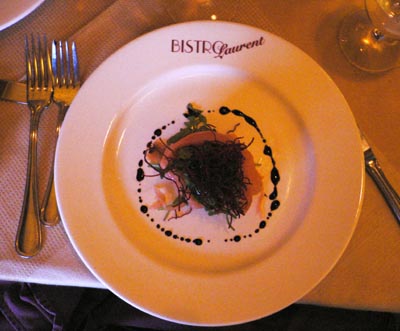 We got lucky last week. Our favorite restaurant in Paso Robles—Bistro Laurent—was preparing a four-course prix fixe dinner in celebration of the three-day Zinfandel Festival that annually takes over the town, the vineyards and the tasting rooms of this vibrant winegrowing region.
We made reservations sight unseen — whatever Laurent Grangien wants to cook is fine with us. For the past thirteen years, this French-born and Paris-trained chef has been filling the dining rooms of a turn-of-the-century bistro with some of the sexiest cooking in California.
So here's what we enjoyed for our $65 per person (including wines!).
Paired with a rare white Beaujolais – very elegant and minerally – was my choice of impeccably made terrine of foie gras on lawn of Belgian endive encircled with truffle oil. Jack's salad of arugula (see image) was topped with a turban of smoked salmon, crowned with a profusion of flash-fried beet threads. Absolutely gorgeous and even more delicious.
Next courses: mine a braise of lobster and shrimp in red wine (hard to do, but it worked), and his a gossamer slice of fresh roasted halibut with fresh asparagus and red wine sauce. This course came with a distinctive, non-oaked zinfandel from Lone Madrone. Crisp, spicy, refreshing on the palate. A perfect, rare baby lamb chop came with classic puree of potatoes and garlic jus, while our other entree of rich, braised veal cheeks arrived with fingerling potatoes and mushrooms. This was served with a very ripe —2001— Adelaida zin. A showpiece wine, very big, very delicious.
For dessert I chose the berries crème brulée — a smart little dish of baked cream wrapped up in a thin slice of a single, ripe strawberry, like a ribbon. Jack opted for berries only. It was an amazing dinner.
Every dinner we've had here — at least once a year for 13 years—has been amazing.
Bistro Laurent in Paso Robles, at one corner of the central town square.