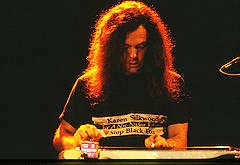 If there's a stringed instrument that David Lindley hasn't mastered, it doesn't exist. The former lead guitarist for Jackson Browne, whose soaring riffs burned their way through most of the classics of Browne's golden age  – and beyond, into the eclectic world music excesses of El Rayo-X – will team up with dobro maestro Bob Brozman this Saturday, at the Rio Theater, for some blistering string theory.
Lindley's virtuosity with the string repertoire of Asia, Egypt, the Caribbean, Uzbekestan, Latin America, the American south, and on and on, has made him a legend among ethnomusicologists as well as rock groupies who want it all. The show should be amazing.
Amazing.
Rio Theater – still holding down the center of Soquel Avenue on the eastside of Santa Cruz. Contact Snazzy Productions for ticket info. But just be there. The show this Saturday starts at 7:30pm – Gold Circle $40adv/general $25.