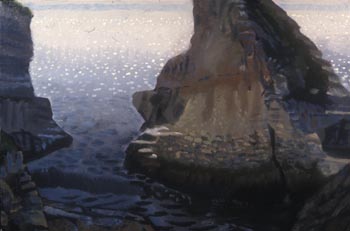 Paintings by Frank Galuszka, Ray Ginghofer, Peter Loftus and Erika Perloff, among others, will be showcased at the Wind & Weather show at Davenport Gallery, through the end of the month.
The exhibition features leading specialists of plein air landscape paintings. (Shown here, Galuszka's Cove, Davenport, 24 x 36 inches, oil on canvas.)
Don't miss the Artist's Reception, this Saturday, April 17 from 5-8pm.
Davenport Gallery is located at 450 Hwy 1, next door to the Davenport Roadhouse.